Epica Blender with Take-Along Bottle Review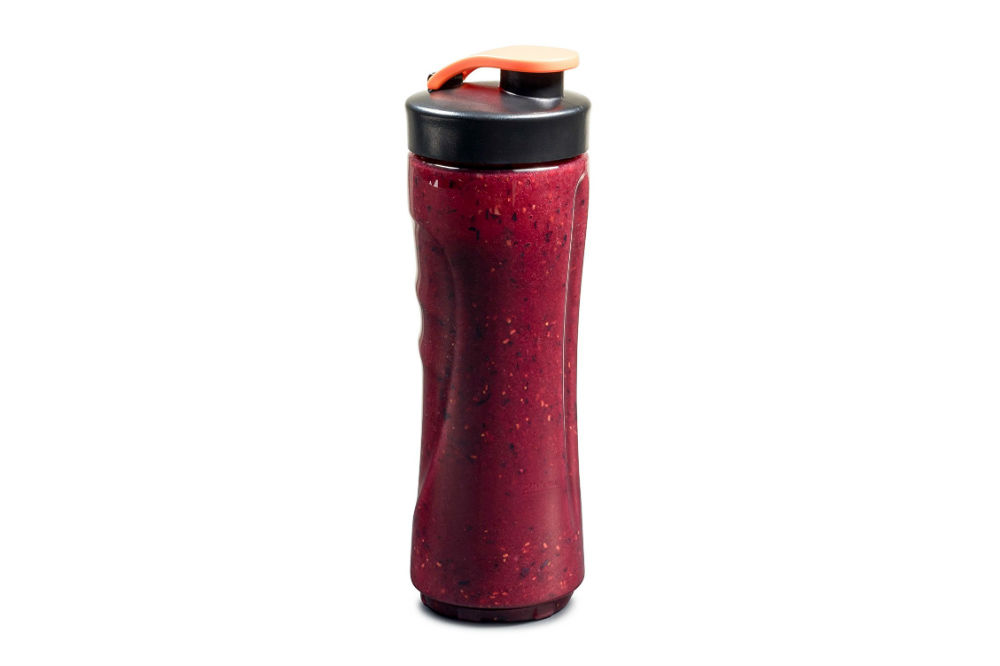 Are you a smoothie lover? If yes, you must be congratulated because this is a smart choice when you think about all the benefits and the dose of health that the smoothies come with.
Drinking a smoothie every day is a great supplement for eating raw or cooked fruit and vegetables. It is recommended to have lots of green veggies in one day and sometimes it might get hard to consume all of them because if you are a busy person and always on the run, you probably do not have the necessary time to do it.
With a blender, you can have the recommended daily dose of vitamins and nutrients, all in one cup. Drinking a smoothie in the morning will provide enough energy for you for the whole day and will make you feel ready to do active activities, will make your memory skills improve and will make you have a more clear mind.
A blender can prepare more drinks, not only smoothies. You can also make yourself different types of shakes and milkshakes, icy drinks, purees and much more.
With the Epica Blender with Take-Along Bottle, you can have the perfect drink anytime and you can also take it with you in the take-along bottle that it comes with.
Features
You have the option to take the drinks that you prepare with you, thanks to the take-along bottle
The mug that the blender comes with has a capacity of 20 ounces
You also receive a sealable lid that makes things easier for you when you take the drink in your bag or in the car
The blender is featured with a motor that is really powerful (250 watts)
This appliance also has blades that are made from heavy duty stainless steel and that work on 23000 rotations per minute
The motor and the blades will make sure to transform anything that you put in the blender into delicious smoothies, purees, cocktails, icy drinks, dips, sauces and much more
The jar that the blender set comes with is break resistant, it is light in weight, fits most cup holders in cars and it can resist easily cold (-40°F) and heat (112°F)
The blender is easy to take care of, to clean and the material of the jar makes it safe to put it into the dishwasher for cleaning
Epica ensures its clients with a two-year warranty if they encounter any problems with their product
The blender is designed with black details and stainless steel
It has a one-touch blending process, you only have to put your ingredients into the jar and press the button on the front
The blender has featured a secure shutoff that will prevent the motor from working unless the jar of the blender is attached and safe to use
The product's dimensions are 9.8 x 9.4 x 6.6 inches and it weighs 3.4 points
Pros
Easy to place on your kitchen counter or to deposit because it does not occupy a lot of space
The jar is scratch and break resistant
The material used for the blades are stainless steel, which will provide them a longer life and more power
The motor is powerful
The blender comes with a take-along bottle that has its own lid and will spare you from spilling
Endless possibilities of recipes
It has a secure shutoff feature
It is easy to use due to its one-touch method of usage
The material of the jar is safe for cleaning it with the dishwasher
The cleaning process is easy, you can simply rinse it under water
The jar is cold and heat resistant and will survive low or very high temperatures
You receive a two-year warranty if you purchase this blender from Epica
The price that it comes with the appliance is affordable for most budgets
You will be able to save a lot of time and to enjoy delicious drinks
Cons
The blender does not feature more speeds
When you want to blend drinks for more people, you have to do it with more repetitions of the process
Summary
This blender has many interesting features that will please anyone who loves the blending benefits and trying out different recipes. You can prepare smoothies, purees, icy drinks, food for your baby, sauces and much more.
Thanks to the durable jar that can be used as a take-along bottle, you can travel with your drink anywhere. The blender is really easy to use, you only have to press a button and clean it afterward under a rinse of water or into the dishwasher because the material is resistant enough for that.
The powerful motor and the blades will provide you with any drink that you want and will allow you to even add ice to the drinks.
Possible alternatives
If you are interested in other options, there is a similar appliance to this one from Epica. It is the Gourmia BlendMate Blender that comes with a travel sports bottle.
This blender is featured with a dual action blade system and the power of the motor is good enough for preparing anything you like. The blender also comes with a recipe book that you can browse and learn new recipes from.
The options regarding the colors are purple with white and green with white. With its dimensions (5.2 x 5.2 x 14.5 inches) it is really easy to place it anywhere in your kitchen and it is easy to store, too, if you do not like it out on display.
Conclusion
If the pros and the cons are being studied, it is clearly that the pros outcome the cons and this blender is a great option that you can take into consideration when you are searching for your future blender. You can use the Epica Blender with Take-Along Bottle in so many different ways due to its versatility and you can experiment recipes of all kind.
You can easily blend a healthy smoothie in the morning, simply put the lid on the jar, transform it into a take-along bottle and you are good to go and start the day with vitamins and nutrients that bring you energy.