Keyton K-1BLENDER 21 oz Personal Blender Review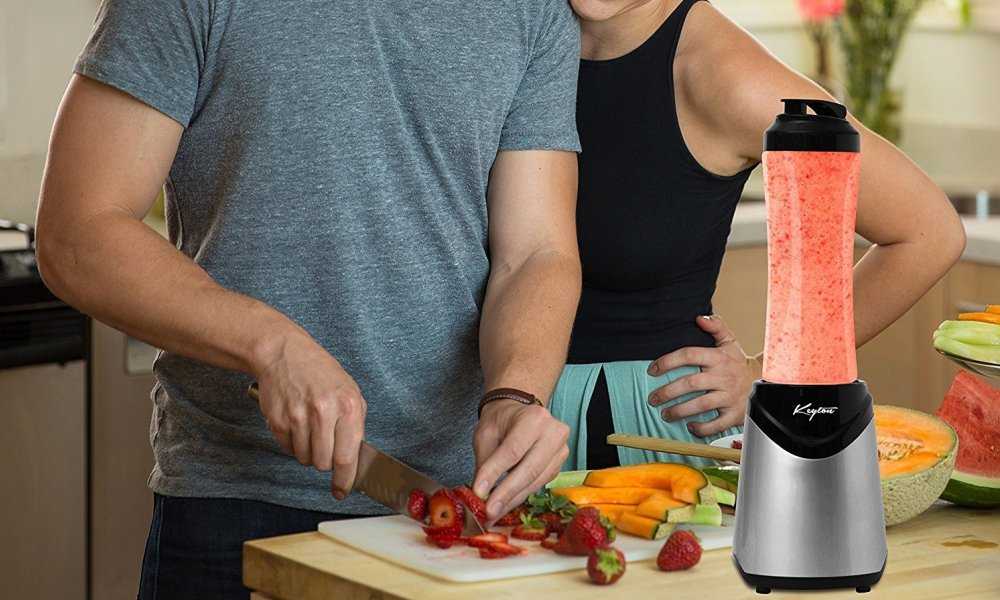 A blender machine is a kitchen essential as it has multiple roles to play in your smart cooking lab. You can use it in many ways – preparing tasty puree or smoothie is one of them. But is it possible to use your bog blender machine for small uses in kitchen for making green smoothie for your breakfast or for your post work-out treat? Perhaps not, because you need a smart, quickie blender that can serve you fast and the one that is easy to maintain, use, and wash.
The Keyton K-1BLENDER 21 oz Personal Blender is the right choice for you if you want a new-age, user-friendly smart blender for making tasty shakes, puree, smoothie at lightning fast speed for one serving. Not only it is handy to use, but instead of blending jar it comes with a blender bottle, which you can carry outside without slightest risk of spillage. Sounds interesting and innovative? The small but powerful blender has even more attractive features that you will appreciate for sure. Take a look here.
Features
Keyton K-1BLENDER 21 oz Personal Blender is built with modern and compact design, which is space saving, attractive and useful by all means
It can easily be accommodated on kitchen counter
The smart blender comes with a portable blender bottle that can be taken outside without slightest risk of leakage or spillage
Regardless whether you are going to gym or to attend your college, you can take your freshly prepared smoothie with you and have it in your recess hour
The sport lid on the bottle keeps the bottle and inside the smoothie under air-tight condition and you can take the bottle in moving car, on a cycle ride, or your friend's bike
Don't be fooled by its size: the blender is small in size but it is extremely powerful. It is built with a 300 watt motor, which is powerful enough for crushing ice cubes, frozen fruits, chopped veggies, etc.
It is easy to use: it needs one touch only. It runs on completely hands free. You need to place the blender bottle in the base of the blender or you need to twist the lock into the base
It is a dishwasher friendly blender and that makes it super easy to use and maintain
It's ideal for making your favorite protein shake; because of spillage proof bottle you can take it in your gym
The bottle size is 21 oz, which is ideal for your one time snacking on your protein shake or green smoothie
It is a versatile gadget; it can be used in your kitchen as well as you can take it in your college, friends' apartment, or in outdoor camping areas
This is safety guaranteed product. Like all Keyton products, Keyton K-1BLENDER 21 oz Personal Blender is UL certified and its blender jar-cum bottle is BPA free
Pros
User friendly
Portable
Easy to maintain
Dish washer friendly
Small but powerful
Smart looking
Hands free, one-touch operation
Cons
You cannot use hot water in the bottle
Product detail information is not available
Address of Keyton company is not available on packaging
Product features summary
Keyton K-1BLENDER 21 oz Personal Blender is small sized but powerful blender machine that runs on a powerful 300 watt motor. It is compact in its design and is a real space saver in terms of occupying space on the kitchen counter. The blender comes with a blender bottle instead of blending jar and that makes it extremely versatile and amazingly useful.
Once you have prepared your smoothie or shake, you can carry the blender bottle with you out of your home, so you can take it in office, gym, college, as well as in your hobby classes. The bottle is spillage proof and leak proof. The blender can perfectly mesh and process ice, chopped veggies, frozen fruits and that makes it an ideal solution for making tasty and healthy green smoothies that you can prepare quickly in a hassle-free way.
It is dishwasher friendly, UL certified and the bottle used here is BPA-free for adhering to best health safety standards of the users. The blender runs on one-touch operation and it is perfect for home as well as for outside use.
You can use it for making smoothies, protein shakes, as well as for making coffee.
Comparison with similar products
The Keyton K-1BLENDER 21 oz Personal Blender is quite functional in comparison to other similar products in market. Let's take two other models, Nutri Ninja Pro Blender, Silver (BL456) and Hamilton Beach Personal Single Serve Blender in count to assess the suitability of the model Keyton K-1BLENDER 21 oz Personal Blender.
In comparison to two other blender models, Keyton is much durable due to its 300 watt motor and one touch operation facility. Only Keyton model comes with a portable bottle that you can carry in your bag, and this feature makes it a truly versatile gadget.
Look-wise Keyton K-1BLENDER 21 oz Personal Blender offers some definite advantages. The design is really attractive, whereas other two models are like common blender machines available in the market. If you are about to purchase a smart and functional blender for making different types of smoothies, shakes, and coffee with equal efficiency, the Keyton blender is perhaps one of the best mini blenders available in the today.
Verdict
Keyton K-1BLENDER is extremely light in weight and quite attractive due to its sleek and smart design. If you are looking for a blender that is as efficient as hand blender but offers fast and quality output, this Keyton model is one of the best viable options for your purchase.
Regardless whether you are after making tasty green smoothie, protein shake, milk shake, or simply coffee, this bender is the right kitchen gadget for you. Its blender bottle can be taken outside and can be used as your sipper. What are you waiting for? Place your order today!