Oster Pro 1200 Blender Review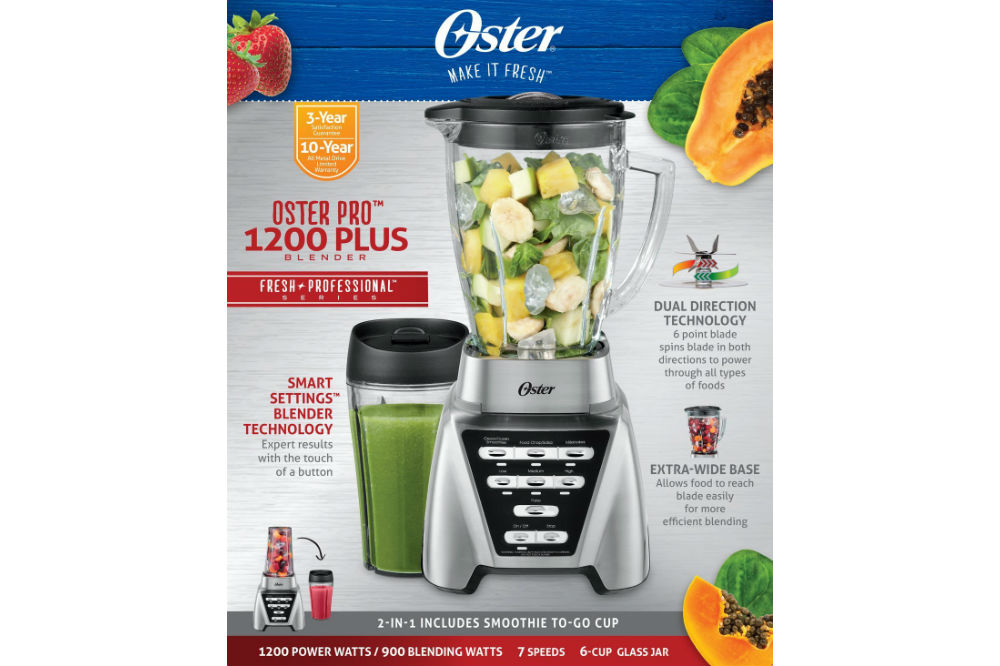 Are you looking forward to reaching your own personal goals regarding a healthy life? You can now educate yourself on what a healthy diet involves. Having a blender at home will make things easier for you to have balanced meals and to get the recommended daily amount of fruit and vegetables.
Also, if you have kids, they will find smoothies fun and tasty, you just have to add some sweet and fun-colored fruit and some veggies.
You can trick them into eating vegetables that they do not enjoy because they will not know what you added in there. They will simply find the smoothies delicious and will be excited for the next one each time!
The Oster Pro 1200 Blender is versatile and beside smoothies, you can also prepare your own fresh and tasty homemade soups, salsas, milkshakes and different blends in no time. This blender has a powerful motor that can handle with no problems ice and frozen food, green leaves and much more.
So you can easily freeze your fresh fruit and veggies and prepare a fresh drink whenever you want to. At only one touch, this blender's smart settings will provide you the perfect consistency you need.
It works at 1200 power watts and has a dual-direction system that will spin the mixture while the blades will chop everything with ease for a smooth finish product.
Features
The blender benefits of a smart settings system that has seven speeds and three already programmed settings that are common for some blender mixtures
It has a wide blade that works on a dual-direction system that will spin the mixture in forward and reverse motions. The blade is 3.5" and will chop am mix everything for the result you need
Works on 1200 power watts
When using ice in the blender, it crushes everything with 900 watts
The blender comes with a big jar for everyday use that is thermal shock resistant and has a wide base that will allow the blade to reach everything you crush and a smaller 24oz cup that is perfect for smoothies on the go because you can quickly blend your drink, put the travel lid on and take the cup with you when you are in a hurry and do not have time to clean up your mess
For more precision, Oster designed this blender with a pulse feature that will add more control, too
The blender was designed for you from durable metal to last longer and it also comes with a limited warranty
The product dimensions are 8.5 x 10.2 x 13.9 inches and it weighs around 7 pounds
The manufacturer created a sleek and polished design with a metallic gray color with black accents that will match every kitchen design.
Pros
Friendly price for everyone, it makes no sense to spend a sack of money on other blenders since this one does the job for much less
The reverse motion technology will keep the mixture moving, so you will not have to stop and mix everything manually
Crushes ice, frozen food, tough greens and much more
The metal will let you use the blender for a longer period without being heated up like the ones made from plastic do
You can take your smoothie with you on the go with the smaller cup
Parts of the blender can be easily removed and replaced if needed
It is versatile and you can get a lot of use of it
You can prepare smoothies, soups, crush ice and frozen fruit and vegetables, milkshakes and so much more
You get your beverage in only a few moments
The blender will provide fresh and delicious drinks for your healthy diet
You receive a warranty
Cons
The blender will make a loud noise when used, but only for a small period of time because it gets the job done quickly
The blender will take some of your counter space, but if you don't want it on display, you can always store it away
The cleaning process might give you a little headache if you do not enjoy this part
Summary
Getting your daily dose of healthy fruit and vegetables might be a little difficult for some of you. But if you put all of those in a blender with some cubes of ice, your problem is solved because you receive health materialized in a cup.
You will be impressed by the benefits that a blender can bring. You will be more energized and your brain will receive a boost regarding memory and clarity.
Also, your skin and your hair will receive more vitamins and minerals and per ensemble your body will thank you for the way you treat it.
The Oster Pro Blender is a nice kitchen robot that will impress you with its versatility and easiness in preparing a large range of fresh drinks, starting from smoothies, milkshakes and ending with soups. Having a powerful motor and a wide blade, the blender will crush ice if needed.
Now you have everything that you need, start being healthy and include your family in this, too, and slowly start to educate you and your kids on what a healthy diet consists because you will live a happier life in a happier body with a happier state of mind.
Possible alternatives
If you are a smoothie lover, you might also be interested in the Magic Bullet NutriBullet Blender. This set includes a base, one tall cup and two shorter ones, a flat blade and an emulsifying one, two lids that can be resealed, a pocket nutritionist and a recipes manual. This makes the best choice for a diet based on smoothies.
Verdict
All in one, the Oster Pro 1200 Blender is an awesome find for those who enjoy fresh and healthy drinks at home. Why would you go out at a smoothie place and pay for a drink when you can probably have five of those at home at the same price?
It is clearly to notice that the pros outcome the cons and you will probably won't be disturbed by a louder noise for a couple of moments.