What to Mix Green Superfood Powder With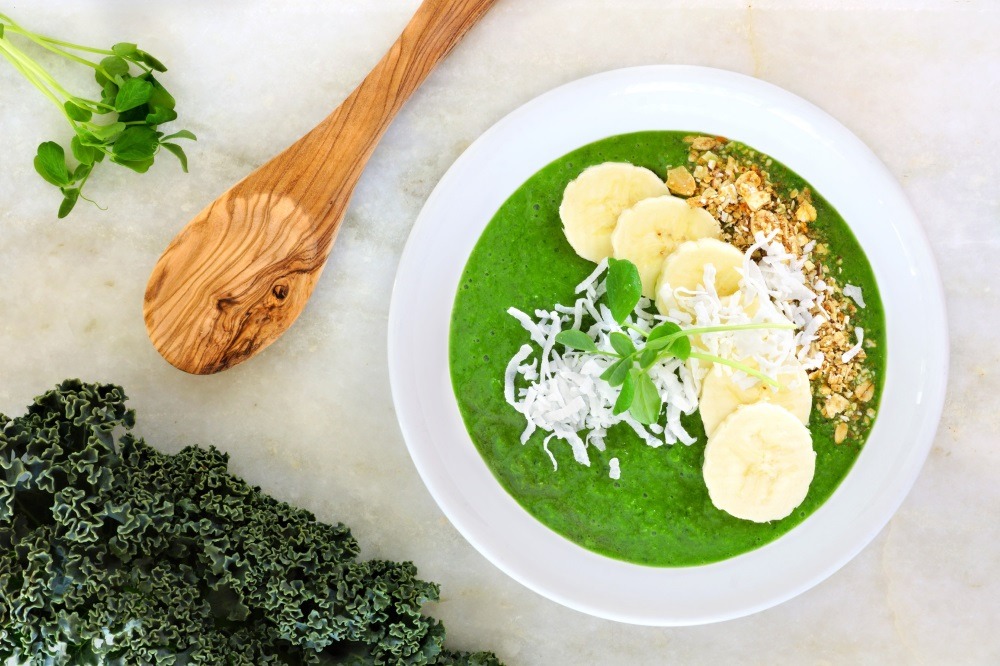 How are you supposed to take green superfood powder? Well, this question has been the topic in most diet blogs out there. The reason why people ask this burning question is due to the bitter, sour and sometimes pungent taste of most green superfoods. However, the truth of the matter is that superfood powders can be consumed either raw or added to different recipes to make them delicious.
There are so many health benefits offered by green superfood powder. The reason why these supplements are so powerful is due to the addition of beneficial ingredients. Although the formula works, the main concern for most people is the resulting bitter taste.
Due to this reason, we have managed to find better ways which one can use to neutralize the bitter taste of green superfoods. Other than mixing it with water, we have compiled a list of powerful recipes which you can use to mix green superfood powder to mask the bitter taste while still ingesting all the beneficial ingredients into your system without feeling irritated.
Add a scoop to pancake batter
One way of enjoying a delicious green superfood diet is through adding the formula to pancake batter. To achieve this, mix 3 bananas, 3 eggs, a half cup of almond butter, two tablespoons of cinnamon and one scoop of green superfood powder.
Combine all the ingredients and blend them together. Pour the blend to your pancakes, and then heat them for around 3 to 4 minutes. Serve the green superfood pancakes with any meal of your choice.
Make green eggs
Another innovative way of enjoying a colorful green superfood breakfast is through mixing the green formula to scrambled eggs. This move allows you to enjoy a tasty morning breakfast while still enjoying all the benefits offered by the green superfood.
Make it with soup
Another incredible way of enjoying a green super meal is through making your soup with green superfood powder. I believe you are wondering how this is possible. Well, let me say most people who have tried this trick have really appreciated the magic behind it.
All you have to do is mix fresh spinach, squash, coconut milk, vegetable stock, a tablespoon of Thai Green Curry Paste and another tablespoon of green superfood powder into a high speed blender and blend them until they're vigorously mixed up. Use the blended formula to cook delicious soup.
Mix with chocolate and cakes
Stirring greens into sweeteners such as chocolate and yogurt neutralizes the bitter taste of green superfood powders, making it easier for you to consume the concoction. According to professional doctors, yogurt and chocolate consists of powerful compounds which react with green superfoods to boost the body's nutrition for a healthy living.
Burgers and sausages
Another creative way of enjoying green superfoods is through mixing them with burgers and sausages. According to those who have tried this recipe, the resulting diet is full of rich flavor and extremely delicious.
When preparing this type of recipe, blend all the necessary ingredients together with green superfood powder. When you're done, sprinkle the blended ingredients into your meat, sausages or burger before cooking.
Mixing with salads
Another natural way of enjoying green superfoods is through mixing them with salads such as kales, cabbages, spinach and other veggies. All you have to do is mix the green superfood powder with ¼ cup of olive oil, 2 tablespoons of cider vinegar, one tablespoon of mustard and a ¼ cup of tahini.
Juice and almond milk
For those people who are lucky enough to own juicers, you can mix the green superfood powder with 4 to 6 ounces of natural juice derived from mangoes, bananas or avocados. On the other hand, green superfoods can be combined with most plant milks to form a delicious mixture of green almond milk which has lots of great benefits for your body.
Milkshakes and fresh fruits
Adding green superfoods to milkshakes and fresh fruits gives you a chance to enjoy delicious and healthy diets all day long. According to professionals, adding the green superfood powder to most fresh fruits is the best option because the superfood powder will be absorbed well in the fruits to make it tasty.
Conclusion
There are other innovative ways of adding green superfoods to your daily recipes to make it tasty and delicious. Since I have just named a few, you can think of your own recipes and try them out and see how they will fair. Remember the main objective here is to mask the bitter taste of green superfoods to make them edible and more delicious while benefiting from their wide range of essential ingredients.